Modern Households: Turning 50 & Multi-Generational Homes
Baby boomers are feeling the pressure of empty-nest reversal from boomerangs – adult children returning home to live and live-in elders – seniors trading their current home for a loved one's spare bedroom. According to Pew Research Center, nearly half of adults in their 40s and 50s have a parent age 65 or older and are either raising a young child or financially supporting an adult child. About one in seven of these middle-aged adults are providing financial support to both an aging parent and a child.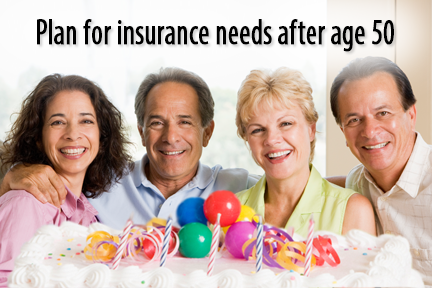 In addition to negotiating cooking and cleaning responsibilities, it's important to make sure everyone understands how a change in address might affect insurance needs.

Live-In Elders


Having an aging parent or other family member move in can be stressful for both parties. Before you unpack that first box, take the time to have "the talk" about finances, including insurance.
Don't shy away from tough questions such as "are you current on health, auto, home and life insurance premiums," "are you covered by Medicare," "is long-term care insurance something we should look into," and "what are your end-of-life wishes?" This level of detail will help you decide what changes, if any, need to be made to existing coverage.
If you uncover health insurance gaps, Medicare Supplement Insurance may be an option.
If your loved one has a life insurance policy, health care directive or will, be sure designated family members are aware of contents, and take care to store all documents in a safe place.
To minimize stress, seek to make your loved one feel cared about, not cared for.


Boomerang Kids


Welcoming an adult child home can be just as daunting as a live-in senior. Plus, it's expensive. In fact, experts estimate hosting an adult child in your home costs between $8,000 and $18,000 per year. To minimize the burden and avoid surprises, set clear expectations.
While 26 is now the maximum age a child can be covered on a parent's health insurance, auto policies have no age limit as long as the child lives in the same household. But just because an adult child is living under your roof doesn't mean you are responsible for protecting their ride. Decide upfront who's responsible for the premiums.
If your child is still in college, he or she may be eligible for health coverage options through their school.
If your child's move home includes expensive electronics or sporting equipment, you may need to increase your homeowners' insurance. Agree early on if your adult child will be responsible if there is a difference in cost.
To avoid misunderstandings, the NAIC developed a Welcome Home Contract for host parents of adult children. In addition to outlining basic rules of co-habitation, the contract places under signature key insurance-related agreements.
All About You

As your new multigenerational living arrangement focuses all the attention on loved ones in need, be sure to understand how financial decisions you make today, including insurance, might impact your own future. A few considerations if you plan to retire before age 65:
If you are covered by an employer-sponsored group health insurance policy, inquire whether your employer sponsors a retiree group plan, or if you can convert the coverage to an individual policy.
If you are in good health and can afford high out-of-pocket expenses (minimum of $1,200 for an individual or $2,400 for a family), you may consider a high-deductible plan.
If you have a pre-existing condition, you may qualify for state Pre-existing Condition Insurance Plans if you have been uninsured for at least six months.
Depending on your age and future income, purchasing an annuity or long-term care insurance may make sense.
Get more tips to help you plan a secure retirement, and download the Welcome Home contract. And for insurance information specific to where you live, contact your state insurance department.